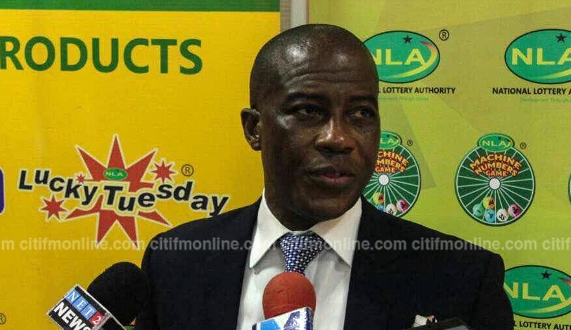 The Lotto Marketing Companies and Retailers Association has called on the board of the National Lottery Authority (NLA) to probe the authoritys boss, Kofi Osei-Ameyaws alleged decision to pay himself GHc 150,000 as rent allowance.
This payment came as the Lotto Marketing Companies (LMCs) wanted for the payment of wins and commissions.
At a press conference in Kumasi addressed by the Association's General Secretary, Joe Kwarteng, it said their businesses have witnessed a dramatic drop in sales and revenue.
This drop in sales was directly caused by Mr. Osei-Ameyaw's intransigence to pay substantial wins and commissions according to the provisions of Act 222, the association held.
These developments have subsequently reduced the working capital of LMCs and the playing strength of the staking public, it added.
In spite of not paying wins and commissions, the acting Director-General, since his assumption of office paid himself an amount of one hundred and fifty thousand Ghana cedis [GHc 150,000] as rent allowance
The group called this shameful and a disgraceful and corrupt act of hypocrisy as Mr. Osei-Ameyaw found everything wrong with paying the LMC sales commissions and wins but everything right in paying himself an amount of one-hundred and fifty thousand Ghana cedis [GHc 150,000] before the NLA board was sworn in at the end of July 2017.
The association held that the reputation of the NLA was at stake hence the need for this probe restore the publics confidence.
We are therefore calling on the newly constituted board to investigate this matter and ensure that all outstanding commissions and public wins and prizes are paid to restore the confidence and integrity of the nations lotto operations, the LMCs stated.
Protest against licensing illegal lotto operators
The LMCs are already up in arms against the NLA and its boss over its moves to license illegal lotto operators.
The association said it would utilize all constitutional and legal means to resist this colossal act of illegality.
We state in no uncertain terms that the acting Director General and the management of the NLA cannot legalize and illegality, which is banker to banker, by announcing a so called public-private partnership between the NLA and the illegal lottery operators.
By Ghana Leaks Blog