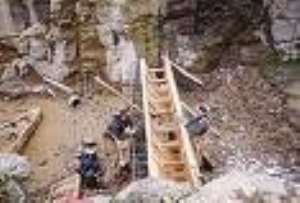 The Methodist Church says it is ready to support government resettle illegal small scale miners into alternative vocations.
The Presiding Bishop of the Methodist church Most Reverend Titus Awotwe Pratt, gave the pledge in Obuasi on Sunday where a national conference was held to ordain new Priests for the Methodist Church.
It follows the cry for jobs in the once galamsey dominated areas after governments temporary ban on small scale mining across the country.
Most Reverend Titus Awotwe Pratt indicated that the anti galamsey campaign has been championed within the churchs teachings.
He pointed out that, We have been preaching and teaching against galamsey. We have a booklet that is used for Bible studies and in the past two to three years, there have been topics on galamsey.
We have taught our church members and everyone who cares to know that galamsey is bad and is destroying farms and water bodies.
Most Reverend Awotwe Pratt disclosed that all Priests in the church have been charged wherever they are stationed, to research and find out in the areas, if there are cottage industries that could be harnessed to help people and the church will be there to support with some funding, either through our banks or our own internal resources.
This way if a galamsey boy or girl is being told to stop galamsey, it means I have something to give them in place, he added.
He however insisted that the fight will be a mirage if it is not tied into governments ability to create more jobs through the one-district-one- factory initiative.
By Ghana Leaks Blog