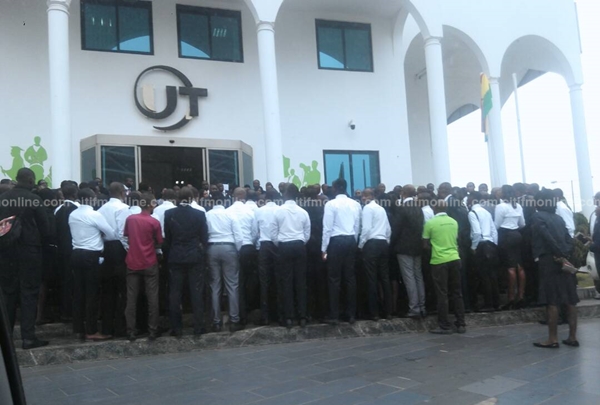 Organized Labour has expressed worry over the management of their pensions at UT Bank and Capital Banks, following the banks' takeover by GCB Bank.
At a meeting to discuss the management of their pension funds, the Secretary General of the Trades Union Congress (TUC), Dr. Anthony Yaw Baah called for closer collaboration to address all the questions surrounding the health of their funds.
We will want to encourage them to engage us as much as possible. I was happy to hear that the receiver is planning to meet with TUC the Bank of Ghana is here and I think that is the way to go.
The Minister for Employment and Labour Relations, Ignatius Baffour Awuah, who was in the meeting with Bank of Ghana officials, assured worried members of organized labor that government will ensure their interests are protected.
What we seek to do is ensure that we maintain a very sound and strong financial environment, where people are bold enough to deposit their monies there and that they would also be bold enough to walk to the banks to if the need be for assistance to help in whatever they want to do, he said.
No cause for alarm
Also on the matter of pensions, the National Pensions Regulatory Authority (NPRA) assured the current pensions law adequately protects all contributors.
In a statement, it said, trustees who have appointed UT Bank as their custodian bank to be rest assured that pension funds in custody of the bank are not affected by the purchased and takeover by GCB Bank and the subsequent withdrawals of their license by the Bank of Ghana.
The National Pensions Act, 2008 (Act 766), as amended, had made special provisions for such takeovers in section 209 (1 and 2) and, therefore, there was no cause for alarm, the NPRA added in the statement.
â€"
By: Kojo Agyemang/citifmonline.com/Ghana
By Ghana Leaks Blog