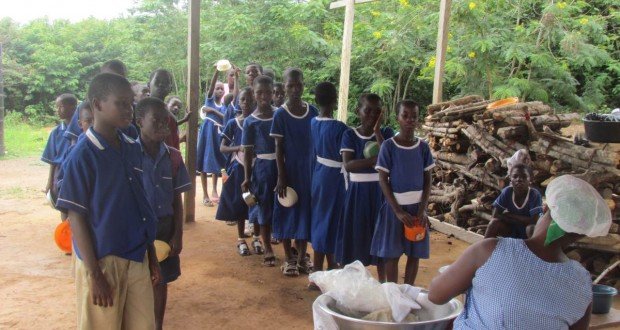 The country director SEND Ghana has described as unfortunate current happenings with the School Feeding Programme in some areas across the country following attacks by some supposed New Patriotic Party (NPP) supporters.
George Osei-Bimpeh who heads the organisation which has conducted lots of research on the impact of the programme said allowing politics to derail the achievements in that field is worrisome.
He told the host of Joy FMs Newsnite programme, Dzifa Bampoh that, we have allowed politics to eat so much into our social fabric so much so that instead of someone taking responsibility to check the impunity we have allowed our poor children to suffer.
Mr Osei-Bimpeh said, to the extent that the programme would have to be put on hold is a misjudgment on the part of whoever gave the order to attack the caterers.
The Programme introduced in 2005 to boost enrollment and attendance as well as retain children in school has suffered setbacks.
Irregular payment of caterers, reports of poor food served for children and political manipulation are some of the drawbacks hindering the smooth operation of the Programme.
A group believed to be supporters of the New Patriotic Party (NPP) attacked caterers at the Ejura-Sekyedumase Municipality on January 12, 2017.
This follows an earlier warning to 41 caterers to stay away from providing service under the scheme, resulting in quantities of food items going waste.
The attack has led to the suspension of the Programme in the Ejura-Sekyedumase Municipality.
A total of 33 basic schools have lost about 40 percent of the 15,000 student population within the last month.
Though a 12-month contract signed on September 13, 2016, is yet to expire, the caterers have been forced to vacate their posts, awaiting a resolution to the issue.
Two months on, attendance and retention of children in basic schools have dwindled in beneficiary schools.
But Mr Osei-Bimpeh said as an organisation they are not surprised with the current happenings because a study they did in 2010 revealed that the program had contributed to increase enrollement and it is a motivating factor for parents in deprived areas to send their wards to school.
Story by Ghana | Myjoyonline.com | Abubakar Ibrahim
By Ghana Leaks Blog