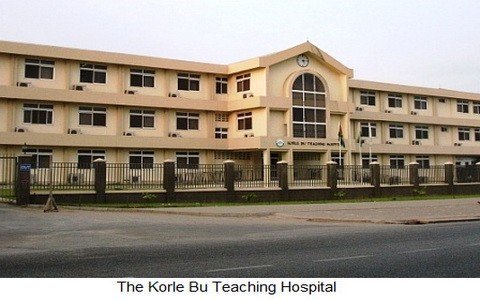 Ghana's biggest referral centre the Korle Bu Teaching Hospital is once again in another scandal this time involving the hospital's canteen.
Documents available to Adom FM suggests, the hospital's canteen is buying fruits, thrice the price of what is originally sold in the market.
The new scandal confirmed by the erstwhile Board Chair of the Hospital Prof Anthony Sallah is the latest of scandals that have left the hospital's reputation dented.
In an interview with Adom FM, Prof Sallah said their attention was drawn to the financial impropriety after the cost for purchasing fruits ballooned from Ȼ90,000 to 190,000.00.
According to him, when they enquired they found out that the procurement officer had decided that the canteen will no longer purchase the fruits directly from the market and awarded a contract to a third party to purchase the fruits.
Prof Salla reported that the manager of the canteen had raised concerns about the inflated prices of the fruits and wrote to the administration but the procurement director ignored the concerns.
The Board Chair said he expressed outrage at the phenomenon during one of the Board meetings.
He said there were attempts to close the canteen over the matter but he resisted the decision and asked that operations be streamlined.
But management of the Korle Bu Teaching Hospital has described the reports and the comments by the ex-board chair as misleading.
A statement issued in Accra Wednesday said an award letter was issued in May 2016 for the supply of the fruits but it was later detected that there were errors in the figures that were quoted in the letter.
"This was discovered by two different committees that included external procurement consultants who confirmed that the figures contained errors. The contract was subsequently suspended.
"The fruits were therefore never supplied to the canteen," the statement said .
The statement also touched on some administrative decisions taken in respect of how to manage the food supplies for House officers in the hospital.
"As part of measures to ensure uninterrupted healthcare delivery, the Hospital provides food for its House Officers, who are required to be on a 24-houron call duty. The hospital feeds these officers once a day and over the years, the service canteen service to them," the statement explained.
It added that due to losses incurred by the canteen a decision was taken for the House Officers to choose a restaurant from which they could have their once a day meals.
An agreement was therefore signed to that effect. This scandal is the latest in the series of many other scandals that have affected the public image of the hospital
There have been in-fighting between the board and the Korle Senior Staff Association which have led to multiple court suits in the past.
Story by Ghana|Myjoyonline.com|Nathan Gadugah
By Ghana Leaks Blog